teacher education programs
oklahoma geological survey
Teacher Workshops
FIELD TRIPS
School Visitations
The Oklahoma Geological Survey offers workshops, classroom visits, and guided field trips as part of the educational outreach program available to Oklahoma schools. The sessions must be scheduled in advance and are available as OGS scheduling allows.

For further information contact: James R. Chaplin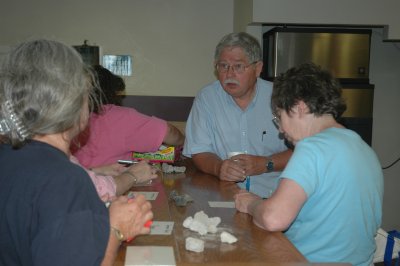 OGS Geologist James R. Chaplin helps teachers select and sort samples at the OPIC Teacher's Resource Room
Teacher Workshops
Half or full-day workshops are available for a minimum of 8 teachers. Teachers must arrange workshops for a specific date, place, and topic. The cost ranges from $10 to $20 per teacher, and varies depending on material and manuals used in the requested workshop.
Possible topics include:
Identifying Minerals and Rocks

Using Fossils in the Classroom (numerous hands-on activities)

Using Topographic Maps in the Classroom

Exploring for Oil and Gas

Geology of Oklahoma Via Crossword Puzzles/Word Searches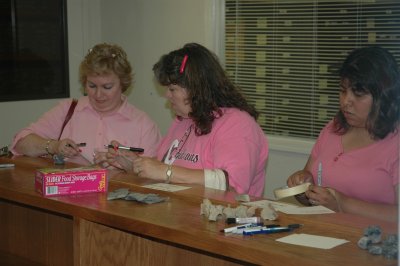 Teachers decide what samples and classroom activity sheets they want to take back to their students.
Geologic Field Trips to Arbuckle Mountains
For Teachers and Students
Teachers must provide transportation for students; maximum of 25 teachers/students; minimum of 15 teachers/students. Participants must provide their own sack lunch; half or full-day field trip may be requested.
COST: No cost except for fossil collecting if requested ($25 per group plus $5 per participant); payment for fossil collecting must be arranged by teacher.
Some features/activities to be seen/conducted:
Collecting sedimentary rocks

Fossil collecting at World Famous White Mound (see above for collecting fee)

Spectacular Prograding Waterfalls

Geologic Faults

Geologic Structures Including Anticlines and Synclines

Unconformitis Demonstrating Loss of Geologic Record

Mineral Springs and Artesian Well

Travertine-Depositing Streams

Folded and Tilted Rock Layers

Petroleum Reservoir Rocks, Seals, and Traps

Karsted Surfaces (Fossil Sinkholes/Caves)

Exhumed Oil Field

Alternate Energy Sources--Gas Shales/Tar Sands
Workshops
School Visitations
At no cost, are available for:
Elementary (Grades 1-6) Topics
Dot-to-Dot fossil activities
Classroom fossil dig
Minerals/Rocks in our everyday lives
Memory fossil game
Making fossil identification cards
Identification of minerals
Chip mining activity

Middle School (Grades 7-9) and
High School (Grades 9-12) Topics
Minerals/rocks in our everyday lives
Exploring for oil and gas game
Fossil preservation game
Classifying fossils
Coring activity-sampling the earth's crust
Using fossils to determine geologic ages of rock
Examining microfossils in deep-sea sediments (Binocular microscopes and lamps must be provided)
Careers in the Geosciences (High School only)
Jim Chaplin encourages teachers to tell the OGS what programs they want and need for their students.
Just submit your ideas, comments and suggestions to him using the information below. He would love to hear from you.
Connie Smith
Oklahoma Geological Survey
Rm. N-131
100 E. Boyd Street
Norman, OK 73019
phone 405/325-3031 fax 405/325-7069