opic
well data library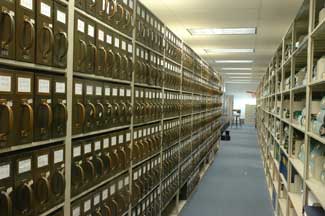 Left: Rows of files in OPIC's Core and Well Cutting Research Facility, which is the official repository for full-scale paper logs from Oklahoma wells.
The OGS Well Data Library (previously known as the Log Library) is Oklahoma's official repository for full–scale (5 in. to 100 ft) paper logs from more than 367,000 wells. The library also has the collection on microfiche.
In addition, the library maintains a hardcopy file of 1002A completion reports (accessible digitally at http://welldata.oil-law.com or at http://www.occ.state.ok.us/), one set of scout tickets and two sets of completion cards for Oklahoma wells. The Library also contains production reports, mud logs, and other data.
Hard copy aerial photos of the state, dating from 1940-1960 and filed by county as well as township and range also areavailable for viewing.
There is no cost to use the collection. Copies are 15 cents for photocopies and microfiche.
For more information, contact:
OGS Well Data Library
2020 Industrial Blvd.
Norman, OK 7306

Richard Tarver
rdtarver@ou.edu
Phone 405/325-1119 or 800/330-3996.
Gene V. Kullmann
OPIC Manager
kullmann@ou.edu
405/325-1279, 800/330-3996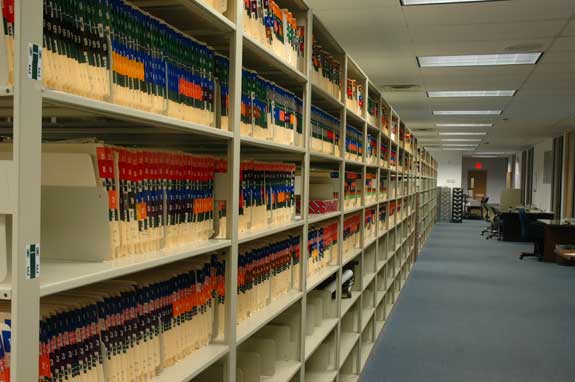 Rows and rows of shelving hold petroleum data at OPIC.