earthquakes and earthquake hazard
oklahoma geological survey
Oklahoma Earthquakes, Earthquake Hazard
On average there are about 50 measurable earthquakes each year in Oklahoma with only a few of these with shaking strong enough to be felt.  2009 was an exceptional year for seismic activity in Oklahoma with 43 felt earthquakes with 27 of those occurring in Oklahoma County.  The Oklahoma Geological Survey has been running seismograph stations in partnership with volunteers since 1961.  Since 1977 there have been more than 1,800 earthquakes located in Oklahoma.
The earliest documented earthquake in Oklahoma occurred on October 22, 1882, and while it cannot be precisely located, the strongest shaking, Modified Mercalli Intensity of VIII, was reported at Fort Gibson, Indian Territory.  On April 9, 1952 the largest instrumentally recorded earthquake in Oklahoma occurred near El Reno in Canadian County.  This earthquake had a magnitude of 5.5 and caused damage to the State Capitol Office Building in Oklahoma City.  Its effects were felt as far away  as Austin, Texas and Des Moines, Iowa.
  The 1811 and 1812 New Madrid, Missouri, earthquakes were also felt in Oklahoma.  For a more complete list of significant earthquakes in Oklahoma please visit the United States Geological Survey (USGS) Oklahoma History. http://earthquake.usgs.gov/earthquakes/states/oklahoma/history.php


[Earthquake Map]
Earthquakes occur in response to forces, which build up over long time periods, and occur when two bodies of rock slide past each other.  This slip can be large for big earthquakes (10's of meters) or as small as a millimeter.  Earthquakes generally occur on pre-existing weaknesses in the rocks called faults.   By far, the majority of the world's earthquakes occur on or near the boundaries of tectonic plates.  Large earthquakes tend to be concentrated at plate tectonic boundaries where forces and faults are much larger.  Generally away from plate boundary settings, such as Oklahoma, earthquakes will be smaller with magnitudes generally less than 6.5.  Small earthquakes (magnitudes 5 or less) occur nearly everywhere in the world.  These types of earthquakes can cause damage and loss of life, but damage is usually moderate and closely concentrated around the epicenter, where the earthquake occurred.  Oklahoma earthquakes generally occur at shallow depths ranging from about 5 to 15 kilometers (3-10 miles) depth. 
Oklahoma has a great number of faults of varying sizes, but they are not expected to have very large earthquakes.  The Meers fault in Southwestern Oklahoma had an earthquake about 1,200 years ago, which ruptured to the surface and had about 3 to 5 m of slip.

Earthquake hazard is the unavoidable risk that an earthquake will disrupt daily activities or cause loss of property or life.  Most damage associated with earthquakes is caused by waves generated during the earthquake.  Estimates can be made for the chances of how much shaking will occur due to all possible earthquake sources.  These estimates use recorded earthquakes and mapped faults to define possible sources and how often these earthquakes occur.  Oklahoma has a greater earthquake hazard than the rest of the mid-continent, but the hazard is still less than that for the New Madrid Seismic Zone to the east or the North America-Pacific plate boundary of the Western US.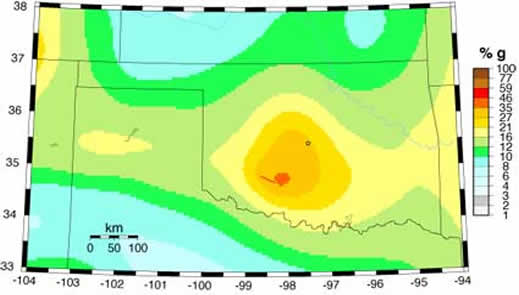 USGS hazard map for Oklahoma, showing the potential level of shaking associated with possible earthquakes in Oklahoma.  This map is based on our current understanding of past earthquakes and where earthquakes are likely to occur in the future.  This map shows the amount of shaking that has a 1 in 50 chance of occurring in the next 50 years.  Shaking is expressed as a percentage of g, or the acceleration of gravity, with  reds indicating more shaking than blues.  The red line in southwestern Oklahoma represents the Meers fault, which has had a recent earthquake (1,200-1,300 years ago) rupture to the surface.

For more information on seismic hazard maps please visit the USGS at:

http://earthquake.usgs.gov/learn/faq/?categoryID=27
Earthscope Transportable Array
USArray will consist of a portable array of 400 seismometers that will be deployed across the United States over a 10 year period. In addition a "flexible component" array will be available to be deployed in areas where a denser network of seismometers is required. (read more)