oil and gas background
oklahoma geological survey
Oil and gas are formed by alteration of microscopic organisms that have been deposited with sediment that turns into sedimentary rock. Sediments and organic remains reach maximum thickness when they accumulate in large, gradually subsiding depressions called geologic basins. With increasing temperature and pressure that result from increased burial depth, organic remains are converted through millions of years into oil and natural gas. These organic compounds consist dominantly of carbon and hydrogen, and so are called hydrocarbons. As oil and gas are less dense than the water in which the original sediment was deposited, where permeable rock makes it possible they migrate upward. Movement ends where blocked or sealed by impermeable rock. The seal is a major component of any hydrocarbon trap, and its extent helps define the size of the oil or gas field that develops.

Oklahoma's prominent place in the oil industry is fortuitous, a result of encompassing the bulk of the hydrocarbon-rich Anadarko, Arkoma, and Ardmore geologic basins and their associated shelves and platforms. The following map ( EP-9 ) shows the approximate outline of these basins and adjacent areas, and also the State's major fields-those that have produced more than 100 million barrels of oil (MMBO). The sedimentary basins that have yielded the bulk of Oklahoma's oil production are mostly Pennsylvanian (~290 to 325 million yrs) in age, but oil and gas reservoirs across the State range from Cambrian (~520 million yrs) to Cretaceous (~95 million yrs).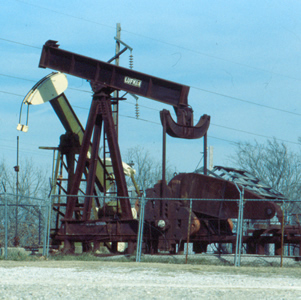 Oklahoma Oil and Gas Management Inc., Kiker #1, Sec 30-8N-8E, Wewoka District, Seminole County, OK. Photo by Dan Boyd.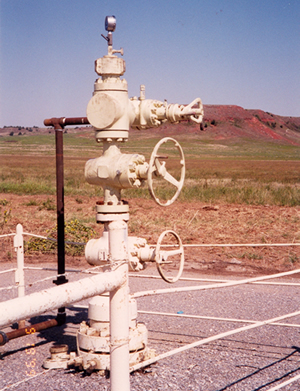 Gas Well: Mustang Production Co. #1-29 Dobbins, located in Sec. 29-T.15N., R.11W., Blaine County, OK. Photo by Rick Andrews.