databases (oklahoma data)
oklahoma geological survey
Public Sources of Oklahoma Oil and Gas Data
(7-5-07)
There are many organizations, commercial, non-profit and governmental, dedicated to the maintenance of Oklahoma oil and gas data. Historically poor State oversight and record keeping of industry activity has left many gaps and inconsistencies in all forms of raw data. This has, in many cases, placed severe limitations on the use and reliability of some collections of these data, especially for activity in early years. As a result, locating and corroborating oil and gas data is a critical issue in the State. It is hoped that this compilation will help Oklahoma's oil and gas operators and researchers overcome this perennial problem.
The publicly available data sources listed here are organized by data type, with commercial services following those that are available free of charge. The organizations offering Oklahoma oil and gas data, including their addresses, contact information and websites (where available), are listed at the end of this document. Data collections can be found in a variety of sources, and these continuously evolve as collections are combined through mergers, new information is added, older data is quality checked, and digital availability increases.
As new sources are identified, updates will be made to this compilation. To report any errors or omissions in this listing, please contact Dan Boyd (dtboyd@ou.edu) at the Oklahoma Geological Survey (405-325-3031, or 800-330-3996).
-------------------------------------
ROCKS:
Core-Cuttings: The Oklahoma Petroleum Information Center (OPIC) facility houses 9,243 cores taken from 4,649 wells in Oklahoma. A donation of 7,661 core analyses (on microfiche) from Deep Rock Oil Company, as well as other hard-copy analyses, are also housed at O.P.I.C. The available core and analyses can be found on the Oklahoma Geological Survey (OGS) website.
The Texas Bureau of Economic Geology Core Research Center houses core and well cuttings for 4,967 wells in Oklahoma, mostly in their Houston facility. In their Wichita facility the Kansas Geological Survey has 35 Oklahoma cores and cuttings from about 1200 wells. The United States Geological Survey (USGS) lists 44 cores and cuttings from 245 wells in Oklahoma. These are housed in their Core Research Center located in Denver. No other organization has been found listing Oklahoma core or well cuttings in their collections.
The OGS has acquired the Ardmore and Shawnee sample collections, and now houses well cuttings for roughly 53,000 wells at its OPIC facility. Because these were originally organized using an index-card filing system, a comprehensive digital listing of the cuttings collection is not yet available.
Outcrops: Many of the productive reservoirs in the State can be seen in outcrop. The location of these outcrops can be determined using a series of geologic maps called Hydrologic Investigation Atlases. These can be purchased through the OGS Publications Sales Office. Maps HA-1 through HA-9 cover the non-Panhandle part of the State, with HA-250, -373, and -450 the Panhandle counties of Texas, Cimarron, and Beaver respectively.
The OGS has also produced numerous geologic maps (GMs), special publications (SPs), and guidebooks (GBs) that locate and describe many of the productive oil and gas reservoirs in the State. Much of this work has been generated in conjunction with the play-based series of oil and gas workshops that continue to be offered by the Survey.
LOG / WELL DATA:
Log Data: The State wireline well log collection is housed in the OPIC facility and comprises logs from about 365,000 individual wells. This hard-copy collection is composed mostly of logs submitted to the Corporation Commission by operators after well completion, and thus are mostly field–scale (large). A microfiche log database is also available at OPIC that contains some logs that are not in the hard-copy collection. In addition to the electric log collection, approximately 125,000 older sample (strip) logs, as well as more recent mudlogs, are also housed at the OPIC facility.
Since late 2002 logs submitted to the Oklahoma Corporation Commission (OCC) have been scanned as digital (raster) images. This is done through the Oklahoma City Geological Society (OCGS), who has contracted A2D to perform the scanning. These log files can be accessed through the OCC website free of charge. (Inquiries concerning this website should be made to 405-521-3636.) Commercial digital log databases are being compiled by a number of groups using the OGS, OCGS and probably other hard-copy collections. To date these have been mostly proprietary scans for specific clients and/or projects.
The OCGS has an extensive collection of hard-copy logs, mostly in the Riley's standard half-scale size, as well as collections of completion and production data. Their use requires membership in the society, as does the use of the Ardmore Geological Society (AGS) data collection. Well logs can also be acquired from the Tulsa Well Log Library. They have hardcopy logs for about 200,000 wells, as well as a large collection of completion cards and hardcopy 1002A forms.
A2D is a commercial log service that purchased Riley Electric Log Inc. This log database can be accessed online and lists logs for about 240,000 Oklahoma wells. Not all of these logs have yet been scanned, but can be upon request. A2D offers log data in standard industry formats, including hardcopy, raster and digital LAS. In addition, they offer depth-calibrated smartRASTER® logs and processed Workstation-Ready digital files.
Geomap Company, OILBAY.com and DrillingInfo Inc. carry hard-copy and digital (raster image) well logs as part of their subscription service, and offer these online. IHS Energy is in the process of scanning the entire State hard-copy log database housed at the OPIC facility. These data are not yet available. MJ Systems is another commercial service that offers wells logs in microfiche format for most of North America. Available through MJ Systems are logs for about 228,000 Oklahoma wells that are available as raster images.
Well Data: Hard-copy versions of the 1002A completion forms submitted to the State are kept by OGS at the OPIC facility, where they can be accessed free of charge. Confirmation of much of the 1002A completion data can be made using information recorded on scout cards. OPIC maintains a collection donated by the Stanolind Oil Company that contains scout cards for about 380,000 wells. Also at the OPIC facility is a collection of P/I-Dwights (now IHS Energy) completion cards for about 160,000 wells that can be used for further confirmation. (Because these are from a commercial source, the cards cannot be copied.) A similar collection of completion cards can be also found at the Laurence S. Youngblood Energy Library in the Sarkeys Energy Center on the University of Oklahoma campus. Yet another service offered through the OGS is a coalbed methane completion database compiled by Brian Cardott. This is useful because coalbed methane production is not distinguished from other gas production in the State database.
Well completion information submitted to the OCC is also maintained by Oil/Law Records. Their database, which includes completion information for 443,000 wells, can be purchased online. Limited plugging data, from 1003 forms submitted to the OCC, are also available through Oil/Law Records. These records include inputs for about 90,000 of the approximately 350,000 wells in Oklahoma that are no longer active.
The same well data that is offered by Oil/Law Records and OGS from the 1002A completion forms can be obtained through IHS Energy. This excellent digital database has records for about 481,000 wells and, like their production data, can be queried using a wide variety of attributes. Based on completeness and ease of access using monthly updated CDs, this is probably the best single source of well information in the State.
DrillingInfo Inc. (online) and Geomap Company (hard-copy, CD-ROM) also offer a variety of State well data (scout, completion and plugging). Hard-copy well information, including data on completion, recompletion, plugging, and changes of operator, can be also obtained through Sooner Well Log. This company has operated since 1955 and has roughly 3 million records acquired through both State and private sources. Although implied by their name, they do not provide electric log data. OILBAY.com also offers a similar variety of Corporation Commission documents, and these can be obtained online for those submitted since 1995. They also carry a complete collection of geological exhibits submitted by operators at Commission hearings.
PRODUCTION:
The Oklahoma Tax Commission (OTC) is the original source of production data, and these data are published by the OCC as an excellent series of free annual State and county production summaries. The summaries include cumulative oil and gas production since 1975 by county, as well as annual totals for all oil and gas production. (First oil is listed in 1902 and first gas in 1906.) This makes them an excellent confirmation of more detailed data that might be acquired through other means. In the OTC records production is listed by oil lease (often multiple wells) and by gas well under a Production Unit Number (PUN). The API numbers of the wells contributing to the production units have been linked to the PUN numbers.
OPIC houses limited hard-copy production data, by oil lease and gas well, from the former Petroleum Information (P/I) and Vance Rowe (now IHS Energy) collections. These data, which begin in the 1940s and continue through 1995, can be used free of charge, but are subject to use restrictions by the data owner and proprietor. The Youngblood library has a similar collection of P/I – Vance Rowe hard-copy oil and gas production books. This collection has production data from the 1950s to the present. The Tulsa Well Log Library has a complete collection of Vance Rowe production books that begin in 1935.
Complete lease and well production data from inception exist only at the OTC in microfiche and microfilm format. Because these records also include tax data they are held as confidential. OTC production data are only available through individual lease production requests that must be filled on a case by case basis. An effort is underway to determine the size and cost required to transfer these data to a digital format so that they can be made accessible to the public. However, even if it is decided to undertake this transfer, it is unlikely these data will be available soon.
Production by gas well and oil lease (usually more than one well) can be accessed commercially online from Oil Law Records. These data originate from the OTC and are organized by lease, field, producer and purchaser. A critical limitation of this dataset is its lack of data prior to 1979; meaning only 19% of oil and 50% of monthly gas production data are available by lease/well. The listing of productive reservoirs in this database has also not been quality checked and includes about 7,500 names, exactly as reported (and spelled) by operators.
Digital production can also be obtained commercially from IHS Energy. This database is probably the best available, but like all others, is hampered by poor State records, especially in early years. Monthly oil and gas production in the IHS Energy database begins in 1970 and 1963 respectively. Production prior to these dates is shown by a single entry called 'Beginning Cum', which is the only accounting for 69% of oil and 22% of gas production Statewide. Although nominally starting at inception, cumulative production in this database is 2 billion barrels and 17 trillion cubic feet less than that on which the OTC says taxes have been paid. Like their well data, production information can be accessed and sorted using numerous well, field, location, production, and geological identifiers. IHS Energy has also combined and corrected reservoir names to a total of about 2,700, which is roughly 1/3rd the total carried in the State database.
DrillingInfo Inc. carries digital oil and gas production online from 1979. Geomap Company also maintains Oklahoma production data on CD-ROM. Another commercial service that sells Oklahoma production data is the International Oil Scouts Association, which is a subsidiary of Mason Research. Their data are restricted to the field and county level, with the last Oklahoma compilation occurring in 2000 (through 1999). Nehring Associates maintains production since inception and remaining reserve volumes for approximately 1,250 fields in Oklahoma. These 'significant' fields have all produced at least 500 MBO or 3 BCF of gas. Due to a lack of detailed reservoir data, remaining reserve volumes for these fields have been calculated using decline curves.
Oil production assignments are further complicated by the State's practice of allocating all unit production to single leases. In some waterflood units this has resulted in tens to hundreds of million of barrels of oil assigned to single quarter-quarter sections. Much of Oklahoma's detailed production data, concerning associated gas production, water injection / production, well-by-well oil production, and production allocations for commingled wells, is not maintained by the State and is believed to have been largely lost. Although condensate and associated gas volumes are entered separately into State production totals, these data are inconsistent. Condensate is usually identified as oil and associated and non-associated gas are often combined. Any detailed production data that may still exist would likely be found in the files of the original operators or their successor companies.
BASE MAPS/AREAL PHOTOGRAPHS:
Aerial photos covering the entire State are available at the Survey's OPIC facility. Made from the 1940s through the early 1960s, these photos can be useful in confirming well locations or identifying older wells that may not be visible in more recent aerial photos (e.g.: Google Earth) or documented in any of the databases described above. Digital overlays of the State well database on aerial maps show a significant number of wells (mostly older) for which there are no 1002A records. A cross-check against scout tickets collections and/or strip logs may identify some of these lost wells.
The Tulsa City-County library maintains a collection of historical land office plat maps (some hand drawn), as well as a variety of geologic and topographic maps. Also available are maps and mapping software (provided by the Tulsa County Assessor's Office) that graphically display current land plats based on the annual tax assessor's rolls. Inventories of all maps can be accessed online.
Base maps showing well locations and other geographic information can be constructed using Oil/Law Records or IHS Energy data. Historical drilling activity has also been maintained on hard copy maps since 1949 by Herndon Map Service. Herndon maps cover all areas of the State except those northeast of T. 15 N., R. 13 E.. These maps have hand-spotted well locations, and where space allows, operator, well name, date, formation tops, oil and gas shows, productive formation, and initial potential. Although in densely drilled fields some wells may not be shown, it is not uncommon to find wells on Herndon maps that do not appear in other databases.
Geomap Company carries base maps that include an accurate land grid, well locations, and well and field information. They also provide an excellent series of 'Executive Reference Maps' that show regional structure, field locations, discovery dates, and production by stratigraphic interval. These maps are available in both digital and hard-copy formats. Base maps (land grid), topographic and aerial photos can also be obtained from the University of Oklahoma's Center for Spatial Analysis online.
INFRASTRUCTURE:
Maps showing pipelines, refineries, gas processing plants, petrochemical plants and other components of Oklahoma's oil and gas infrastructure, presumably due to security concerns, appear to be publicly unavailable.
GENERAL INFORMATION:
The Osage Indian Agency maintains a comprehensive collection of oil and gas data for Osage County in Pawhuska, Oklahoma. These include all production by quarter section since 1900, and all electric logs, core analyses, and well completion-plugging information. All major producing formations have been mapped in detail by consultants. All studies, as well as the tribe's seismic database, are available to the public.
Pangaea Inc. is the best single source of digital and hard-copy OCC orders (spacing, respacing, location exceptions, increased density, poolings, etc.) and well records (completions, recompletions, pluggings, etc.). They were the recipients of the original hard-copy OCC files after these were digitally scanned. Because some OCC order files were overlooked in this process, Pangaea now boasts the most complete collection of these data. This includes about 1.3 million pages of information that can be accessed online. In addition, Pangaea has a complete collection of OCC hearing exhibits (in color) from 1999 which are also available online.
Through their recent acquisition of Geologic Data Services (GDS), IHS Energy now provides subsurface formation tops for over 205,000 wells in the Oklahoma and Texas Panhandle in a variety of formats. These data can be purchased using Township-Range or latitude-longitude windows and are compatible with all major mapping software. They also provide a digital land grid for Oklahoma as well as custom mapping and detailed stratigraphic studies.
The Energy Information Administration (EIA) of the U.S. Department of Energy carries a wide variety of information concerning the Oklahoma oil and gas industry, as well as every other part of the world. This includes annual oil and gas production, consumption, refining, drilling, prices, as well as information addressing the State's overall energy landscape.
The OGS has produced many oil and gas studies that can be purchased at cost. See the OGS oil and gas publication listing online. As a State agency OGS has been the recipient of numerous collections of both raw data and interpretive studies that have been submitted by the industry. These are available to the public at no charge. The OCGS and AGS also maintain libraries of oil and gas publications. The Laurence S. Youngblood Energy Library is probably the most complete collection of oil and gas related publications in the State.
Oil and gas field outlines in Oklahoma are geographic (not geologic). Because this makes them largely a function of drilling history, field boundaries tend to be arbitrary. In addition, because over 18,000 productive wells have not yet been assigned to fields in the State database, commercial services have been forced to unilaterally expand existing field boundaries to include new wells. As a result field boundaries defined by IOSA or IHS Energy may not agree with those defined by the OCC Nomenclature Committee or those defined on OGS geologic maps (GM-36, GM-37).
Geomap Company, in addition to raw data, also offers a variety of interpretive information to its customers. These include basin and trend analyses, subsurface structural interpretation combined with stratigraphically keyed production, cross-sections, geological studies, and a geological staff available for assistance. Their subsurface geologic interpretations are updated on a regular basis.
ORGANIZATIONS-ABREVIATIONS-CONTACT INFORMATION:
Governmental
Kansas Geological Survey
1930 Constant Avenue
Lawrence, KS 66047-3726
(785) 864-3965
http://www.kgs.ku.edu/Magellan/CoreLibrary/
Oklahoma Geological Survey (OGS)
100 E. Boyd St., Room N-131 – Sarkeys Energy Center (OU Campus)
Norman, OK 73019-0628
(800) 330-3996, (405) 325-3031 – Publication Sales Office (405) 360-2886
Oklahoma Petroleum Information Center (OPIC) Managed by OGS
2020 Industrial Blvd.
Norman, OK 73069
(405) 360-2886
http://www.ogs.ou.edu/opic.php
Laurence S. Youngblood Energy Library
Sarkeys Energy Center (University of Oklahoma)
100 E. Boyd St., Room R-220
Norman, OK 73019
(405) 325-6451
University of Oklahoma Libraries Online:
http://libraries.ou.edu/eresources/LORA/
Oklahoma Corporation Commission (OCC)
P.O. Box 52000-2000
Oklahoma City, OK 73152-2000
(405) 521-2211
Larry Claxton (Mgr. Oil and Gas Statistics Department)
(405) 521-2273 Annual Reports:
http://www.occ.state.ok.us/Divisions/OG/Og.htm
O.C.C. Home Page:
Online Well Logs:
http://occoapp1.occeweb.com/occexit/OCCOraWebApps.html
Click – Oil and Gas Web Application
Oklahoma Tax Commission (OTC)
2501 North Lincoln Blvd.
Oklahoma City, OK 73194-0009
Mark Hendrix (Mgr. Tax Policy Division)
(405) 521-3133
Leslie Davis (Oil and Gas Production Information Requests)
(405) 521-4558
Osage Agency Branch of Minerals
813 Grandview
P.O. Box 1539
Pawhuska, Oklahoma 74056
(918) 287-5710
(No Website)
Texas Bureau of Economic Geology
University Station, Box X
Austin, TX 78713-8924
(512) 471-1534
http://www.beg.utexas.edu/crc/index-crc.htm
Energy Information Administration (EIA)
A department of the U.S. Department of Energy
Home Page:
United States Geological Survey (USGS)
Building 810 – Denver Federal Center
Jeannine Honey curator
(303) 202-4851
http://geology.cr.usgs.gov/crc/data/OK/ok-cutrs.htm
Non-Profit
Ardmore Geological Society (AGS)
Box 1552
Ardmore, OK 73402
(No website)
Center for Spatial Analysis
100 E Boyd St
Sarkeys Energy Center 684
Norman, OK 73019
405-325-3131
International Oil Scouts Association
P.O. Box 940310
Houston, TX 77094-7310
http://www.oilscouts.com/index-main.html
Oklahoma City Geological Society (OCGS)
120 North Robinson Ste. 900 Center
Oklahoma City, OK 73102
(405) 236-8086
Oklahoma City Geological Society Library
120 North Robinson Ste. 900 Center
Oklahoma City, OK 73102
(405) 235-3648, ext. 11
http://www.ocgs.org/library.asp
Oklahoma Well Log Library
427 S. Boston Ave., Suite 1100
Tulsa, OK 74103-4116
(918) 582-6188
(No website)
Tulsa City-County Library (Central)
400 Civic Center
Tulsa, OK 74103
(918) 596-7977
For an inventory of maps on file see:
http://www.tulsalibrary.org/research/geological/
Commercial
A2D (Rileys)
(888) LOG-LINE (Connie Phillips)
http://www.tgsnopec.com/data_solutions/well_logs.asp
DrillingInfo Inc.
Bank of Oklahoma Plaza
201 Robert S. Kerr Ste 605
Oklahoma City, OK 73102
(405) 943-1525
http://www2.drillinginfo.com/frameHome.jsp
GEOMAP Company
1100 Geomap Lane
Plano, TX 75074-7199
972.578.0571
http://www.geomap.com/geoserv.html
Herndon Map Service
3816 N. Maney St.
Oklahoma City, OK 73112-2929
(405) 946-5858
http://www.herndonmap.bizhosting.com/
IHS Energy Group: (Petroleum Information/Dwights LLC)
15 Inverness Way East
Englewood, CO 80112-5776
MJ Systems
5085 Oakland Street
Denver, CO 80239
(800) 310-6451
Nehring Associates
675 Southpointe Court, Ste 250
Colorado Springs, CO 80906-3886
(719) 630-1650
http://www.nehringdatabase.com/#
OILBAY.com
(405) 330-8030
Oil Law Records
8 NW 65th Street
Oklahoma City, OK 73116
405-840-1631 (Mellisa Ingram)
Pangaea Inc.
1600 Breckenridge Drive
Edmond, OK 73013-7666
(405) 341-0474
PennWell
1700 West Loop South, Ste 1000
Houston, TX 77027
(713) 621-9720
Sooner Well Log
6709 N. Olie
Oklahoma City, OK 73116
(405) 848-3001, 848-4464
(No website)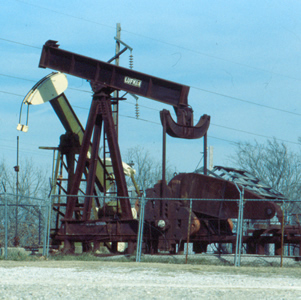 Oklahoma Oil and Gas Management Inc., Kiker #1, Sec 30-8N-8E, Wewoka District, Seminole County, OK. Photo by Dan Boyd.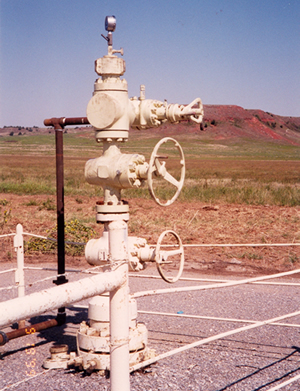 Gas Well: Mustang Production Co. #1-29 Dobbins, located in Sec. 29-T.15N., R.11W., Blaine County, OK. Photo by Rick Andrews.